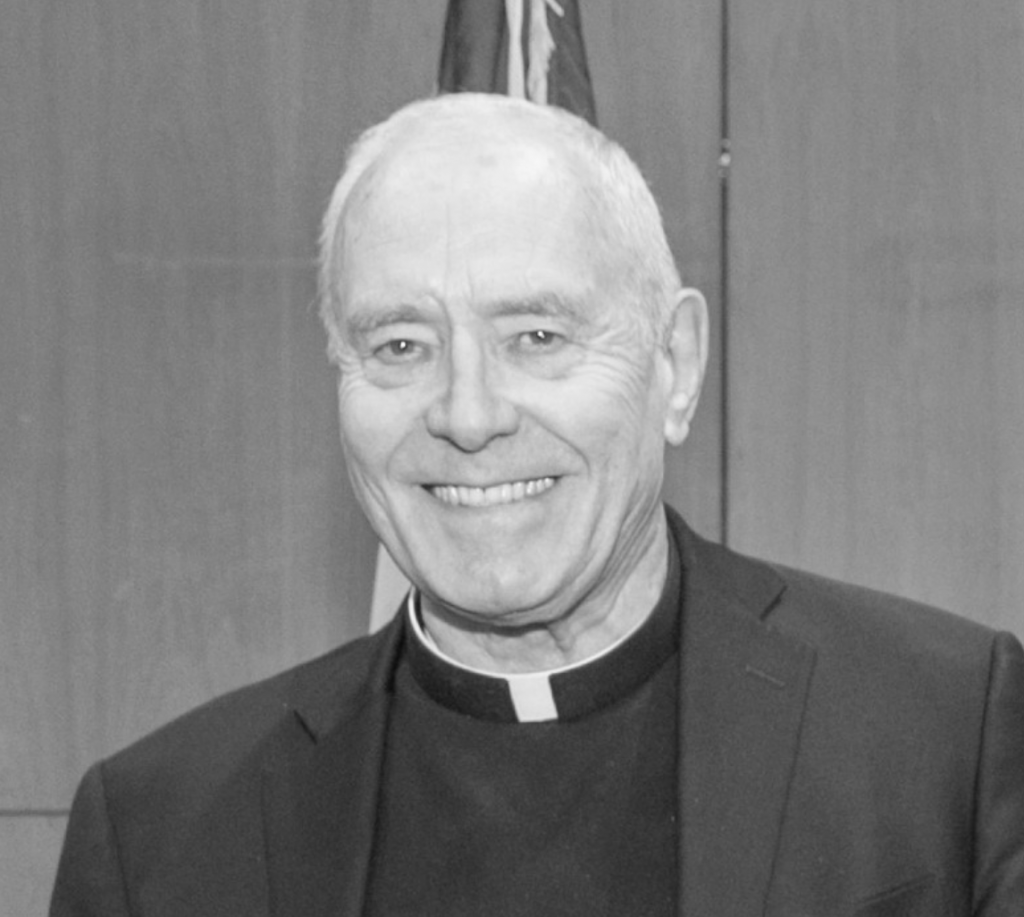 The founding editor of the Chesterton Review, Fr Ian Boyd CSB, has recently retired after forty-six years of remarkable service.
A Basilian priest, he established the journal in 1974, the centenary year of
Chesterton's birth. At that time he was Professor of English at St Thomas More College, a Catholic liberal arts college federated with the University of Saskatchewan in Canada. Later he moved to the United States, where he was Distinguished Professor of Catholic Studies at Seton Hall University in New Jersey, while also serving as President of the G.K. Chesterton Institute for Faith & Culture.
Fr Boyd is himself a widely respected Chesterton scholar. In 1975 he produced a seminal study, The Novels of G.K. Chesterton, and he has written and spoken frequently on Chesterton in North and South America as well as various parts of Europe.
Under his leadership, the Chesterton Review played a leading role in the worldwide revival of interest in Chesterton's works. It has an enviable reputation for impressive scholarship combined with readability, a tradition that will assuredly continue with the appointment as Editor of Dr Dermot Quinn, long-time friend and colleague of Fr Boyd's and the Review's Associate Editor.
The journal is notable for its international range of contributors – and subscribers. Its articles emanate not only from English-speaking countries but also from nations in continental Europe, notably Poland and Croatia, as well as in South America, especially Argentina, where many of Chesterton's works are available in translation.
I recall visiting Buenos Aires in 2006, at Fr Boyd's invitation, to speak at a conference attended by several hundred delegates. The then Cardinal-Archbishop of Buenos Aires, Jorge Bergoglio, now Pope Francis, opened the conference and approved the prayer for Chesterton's cause for canonisation. Thanks especially to the efforts of Gloria Garafulich-Grabois, a native of Chile who has long served as the Chesterton Institute's Director and the Review's Managing Editor, foreign language editions of the journal are also published, especially for Spanish-speaking readers.
The Chesterton movement in Australia has particular cause for gratitude to Fr Boyd. From his founding of the Review in 1974, he welcomed Australian Chestertonians to its pages – such as Tony Evans, founder of the Australian Chesterton Society, the Federal MP Kevin Andrews, Gary Furnell and Daniel Matthys.
At different times he invited Race Mathews, Sheridan Gilley, Peter Hunt and Karl Schmude to join the Review's Editorial Board, as well as publishing their articles in its pages. For more than a quarter of a century, following Tony Evans' launching in 1993 of The Defendant, he regularly reprinted articles from our Australian newsletter.
Fr Boyd has visited Australia on two occasions. The first was in 1990 when he met with various Chestertonians, including the Australian's Greg Sheridan and the Sydney Institute's Gerard Henderson, as well as Frank Hills in Queensland and Hilary Hayes in Victoria, each of whom had served as Australian Secretary of the international Chesterton Society. In 2000, he returned to speak in the Benedictine town of New Norcia near Perth where the Chesterton movement held its first national conference, extending the Chesterton Society of Western Australia into the Australian Chesterton Society.
All Chestertonians cherish the devoted leadership of Fr Boyd over nearly half a century, in leading the international Chesterton Institute and editing The Chesterton Review. We especially appreciate his strong and sustained interest in Australia and his love of Chesterton which he has shared with many Australians.
Unquestionably his Canadian roots have played a part in his reaching out to "the land Down Under". As he wrote in tribute to the Australian Chesterton Society on the occasion of our 25th anniversary in 2019:
"As a Canadian, I was conscious of the fact that Canada and Australia belong to the same British Commonwealth. Having a chance to visit Australia gave me a better sense of what membership in the commonwealth meant, but more importantly it gave me an excellent example of what a Chestertonian fellowship means."

The Defendant, Summer 2019