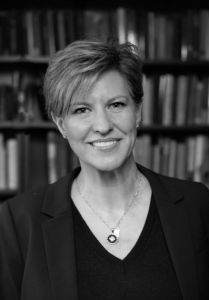 In 1920, Chesterton and his wife Frances visited the Holy Land. This article by Emily de Rotstein first appeared in Gilbert magazine (January-February 2020), edited by Dale Ahlquist, and is reprinted with their kind permission. Emily is Executor Director of the Chesterton Schools Network, a growing movement of parent-led schools, founded in Chesterton's name, which offers a classical education and has now expanded to 30 schools in the USA, Canada and Italy.
---
While planning a recent adventure to Israel, my husband and I were excited to learn that our trip coincided with the 100th anniversary of Gilbert and Frances Chesterton's travels to Egypt and Palestine for Chesterton's book, The New Jerusalem. We were inspired to retrace their steps as we visited the Holy Land, using Chesterton's book as our guide.
My copy of The New Jerusalem was a constant companion as we traveled to Tel Aviv via Amsterdam and Zurich, and I finished it just as we touched down in Israel.
Chesterton's writings on Islam, the Crusades, Zionism, and his philosophy of sight-seeing were profound and prophetic. But as brilliant as the book was, I was disappointed. There were virtually no dates, no itinerary, no details. It was, as Dale Ahlquist describes it, a "philosophical travelogue."
Without an itinerary to follow, it seemed we wouldn't be able to retrace Gilbert and Frances' journey after all. We resolved simply to immerse ourselves in our own adventure instead of trying to replicate theirs. We attended the wedding of a dear niece in the old city of Jaffa, spent a day touring the holy sites in the Old City of Jerusalem, traveled into the Negev desert to stay overnight in an authentic Bedouin tent; and visited the desert home of David Ben-Gurion on the Kibbutz Sde Boker. It was an extraordinary trip.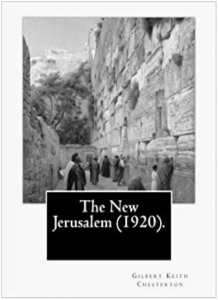 Back in the office, memories of the Holy Land still lingered in my mind. As I stood in the library shelving books, I happened upon Denis J. Conlon's biography, G.K. Chesterton – A Reappraisal. To my surprise, the book opened to Frances Chesterton's vivid account of their 1920 trip to the Holy Land. I was instantly transported there with her.
Frances' diary makes for fascinating and often humorous reading, and provides an unusual window into the British Mandate Period, a time when traveling to the Holy Land was uncommon and arduous. Frances' writing provides new insight into the Chestertons' beautiful marriage and reveals her adventurous spirit, warmth, and devotion to Gilbert.
Chestertons in the New Jerusalem
On December 29, 1919, Gilbert and Frances Chesterton departed by train from London for a three-month journey to the Holy Land, fully-funded by the Daily Telegraph. Chesterton's travel accounts were to be published regularly in the newspaper as he reported them, and were later published in book form as The New Jerusalem. Frances was suffering increasingly from arthritis, and welcomed the opportunity to miss part of a harsh British winter.
Frances recounts the first leg of their journey, noting: "Arrived in Paris about 7. Terrible hunt for the big box – found finally with a damaged lock, and at great expense landed at Gare de Lyons Palace Hotel – very nice room – good dinner." They reached Rome on New Year's Eve and continued on to Brindisi where they boarded a boat to Alexandria. After several days in Cairo, including a visit to the Pyramids and the Sphinx, they set off into the Sinai, and "slept in fits and starts as the train slowly crossed the desert."
They arrived in Lydda (known today as Lod, site of the modern Ben Gurion International Airport), and, after breakfast in a tent, traveled by car on to Jaffa (now part of Tel Aviv). Frances writes, "the badness of the road is quite indescribable and I thought we should never reach the hotel in safety. But so beautiful. My first glimpse of Palestine will always be associated with great groves of orange trees and fields of scarlet anemones."
Four weeks after departing London, Gilbert and Frances finally reached Jerusalem, arriving in the pouring rain. With no other vehicle available for the last leg of their journey, they caught a ride from the train station in a Red Cross ambulance and entered Jerusalem through the Jaffa Gate. Just three years earlier, British general Edmund Allenby entered the Old City of Jerusalem through the Jaffa Gate on foot, liberating Jerusalem from Turkish rule.
The Chestertons settled in to the Hotel Grand New (now the New Imperial Hotel), just inside the Jaffa Gate – "Quite comfortable hotel – bed and sitting room." This was home for Gilbert and Frances for the next two months and they kept a busy schedule of daily social engagements: dinners; tea parties; Gilbert's lectures; visits to schools and orphanages; excursions to sites such as Jericho, Jordan, the Dead Sea; and visits with dignitaries, including the famous Zionist, Chaim Weitzmann, who later became the first president of Israel.
Frances recounts her frequent walks in and around the Old City – "a hopeless town to find one's way about in – no names or numbers anywhere" – finding her way to the Church of the Holy Sepulchre, discovering the Via Dolorosa, coming out unexpectedly upon the Dome of the Rock.
Gilbert accompanied her on many long walks, out to the Mount of Olives and the Garden of Gethsemane, to the Kidron Valley, and along Jericho Road to Bethany, to see the tomb of Lazarus.
While Frances had hoped to escape the British winter, the cold weather and pouring rain followed them. On February 9, the rain turned to snow and continued for days, a record of 3 feet that still holds to this day. Frances wrote, "The dining room is flooded and unusable, and there is no water – managing to keep warm, however, in fur coat all day."
By February 17, Frances reports "Jerusalem herself again. Warm and sunny like a lovely May day. As Gilbert was busy, went alone by the Jaffa Gate along Jaffa Road to the Garden of Gethsemane. A small boy rang at a bell for me and obtained the key of the Garden. It is like a cottage garden at home, just earth and little beds of marigolds, pansies, and wallflowers. One of two olives (one called the Tree of Agony) so old they might have been there in Our Lord's time. The old Franciscan monk who let me in just waited patiently while I walked. He gave me a sprig of rosemary 'for remembrance'."
Frances returned to the Garden of Gethsemane with Gilbert a few weeks later. She writes: "A glorious day. The old Franciscan gave me a bunch of violets and rosemary from the Garden. Then we wandered in the fields and I found anemones and grape hyacinths and ragged robin."
Jerusalem and conversion
The Chestertons said farewell to Jerusalem on March 30 and returned to London via Alexandria, Brindisi, Rome, and Paris. In her biography of Chesterton, Maisie Ward said that his visit to Jerusalem had been a determining factor in Gilbert's conversion. Perhaps the trip also prepared the way for Frances. Perhaps the old Franciscan was praying for her in the Garden of Gethsemane.